TEXTBOOK SERVICE FOR STAFF
---
Textbook Request Collection
Textbook request collection and purchase shall follow the timeline below:
Library TPD to contact (a) Registry to provide module information (including module title, module code, and number of enrollment), (b) MITS to provide information for TMS in WEEK 4 of each semester;

Registry and MITS to send required information to Library TPD in WEEK 5 of each semester;

Library TPD to input data and allocate access permission for module leaders/conveners in TMS; to inform LLOs and HoDs of textbook request collection schedule via e-mail and i-Calendar in WEEK 6 of each semester;

Module leaders/conveners to submit textbook requests via TMS within WEEK 7 & WEEK 8 of each semester;

Library TPD to inquire about availability, price and estimated arrival time based on the collected textbook requests within 10 working days of TMS being closed, and provide feedback to each academic department;

Academic departments to review textbook requests in the case of extra high cost or unavailability and feed back to Library TPD within 5 working days;

Library TPD to place orders, which cannot be changed or canceled at this point. Normally it takes 2 to 3 months for imported textbooks to arrive.
Please kindly be noted when submit textbook requests:
Module leader/convener can assign at most TWO essential titles for each module (either as Mandatory Textbook OR Optional Textbook, no combination of one Mandatory and one Optional Textbook for each module).

Library TPD encourages assigning textbooks as 'optional'.

When Optional Textbook is assigned, Library TPD will provide only a certain number of copies based on the Optional Textbook Collection Rate (CR) of last academic year.

In AY 2017/18, CR = 80% (percentage of students who collected textbooks in AY 2016/17);

From AY 2018/19 and after,

CR=(NC+NF)/NE (NC stands for Number of students who Collected a copy; NF stands for Number of students who Failed to own a copy due to understock (if applicable); NE stands for Number of Enrollment in a module);

Library TPD shall keep record of all statistics regarding textbook collection in the formula above.

No matter whether a textbook is assigned as 'mandatory' or 'optional', Library TPD will have several copies on the shelves for students to borrow. Duplicate copies will follow the Policy on Print Book Collection Development.

Academic staff can set a book as 'short loan' or 'not for loan' for teaching needs by contacting Library User Service Division (Lib-USD@xjtlu.edu.cn).

If textbook requests are not submitted by the announced deadlines, TMS will be closed automatically and no late textbook requests will be accepted.

 
Desk Copy
Module leader/convener can apply for a Desk Copy by:
Collecting it from Library TPD in person one week before new semester begins;

Contacting publishers directly if the Desk Copy is needed before the time stated above.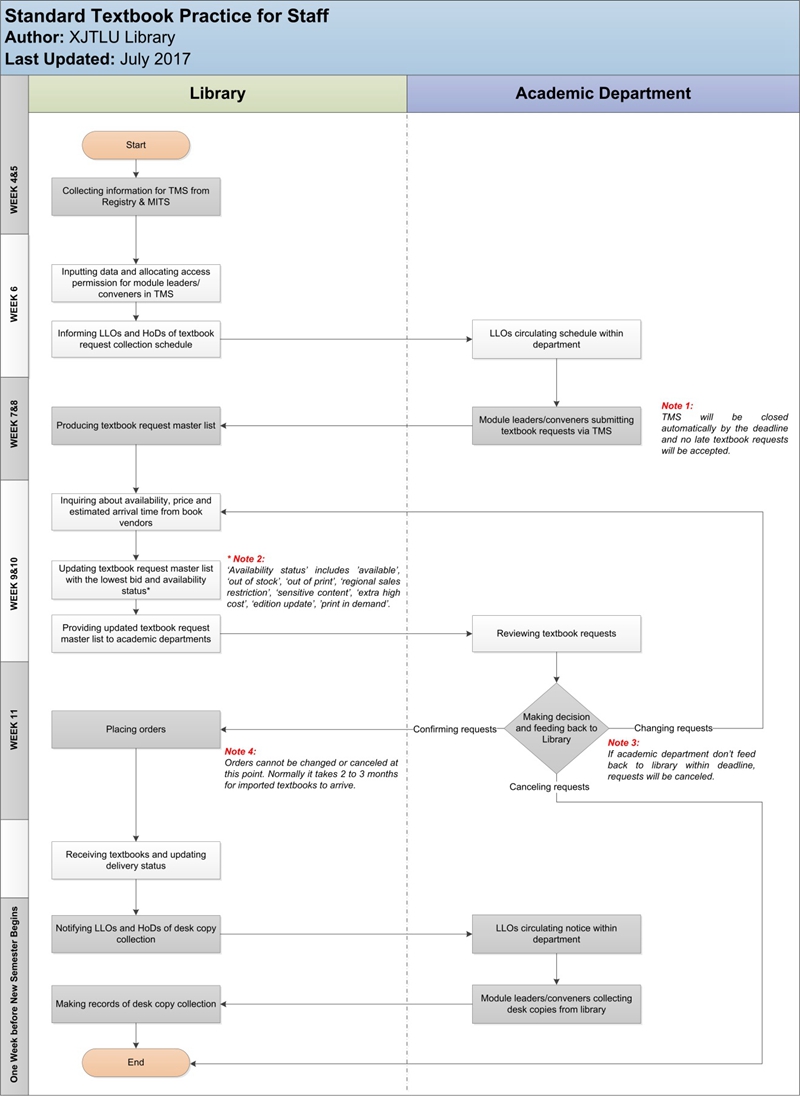 Textbook Fair
In order to help academic staff prepare teaching, Textbook and Publication Division (TPD) will hold textbook fair with well-renowned academic publishers for academic staff of XJTLU to review the teaching materials for new semester. By the end of each October, TPD will finish the textbook requests collecting through the departmental library liaisons/online textbook management system. The timely submission of textbook request is the prerequisite of a smooth textbook purchase procedure, and will lay a solid foundation for teaching and learning activities.