Library Activities in the Freshmen Week
15 October 2018, Monday, 14:45 Library Event Viewed by: 566 times
Recently, the most-awaited event of this semester i.e. the three week seasons of library activities for freshman finally came to a curtain. The opening series at this year's session are designed for three main activities: Freshman First assignment, The Hunt for the library's mascot Guan Xiaotu, and The First Book I borrowed from the library. During the three-week event, the freshmen have received valuable opportunities to interact with the mascot, Guan Xiaotu, while experiencing the library's new equipment to administer sufficient skills and knowledge in accessing the library's provided services. In an effort to inspire new students, the library also prepared beautiful customized prizes that were distributed through sweepstakes with 35 lucky winners.
近日,为期三周的开学季迎新生活动终于落下帷幕。此次开学季系列主要有三个活动:新生作业、寻找馆小图和晒出你在图书馆借的第一本书。在这三周内,新生们不但收获了使用图书馆的新技能、与馆小图密切互动着,还尝试使用了图书馆的新设备享受了图书馆的服务。为了激励新生,图书馆还准备了很多实用的精美定制小礼品,通过抽奖的形式,有35位幸运儿获得了图书馆奖品。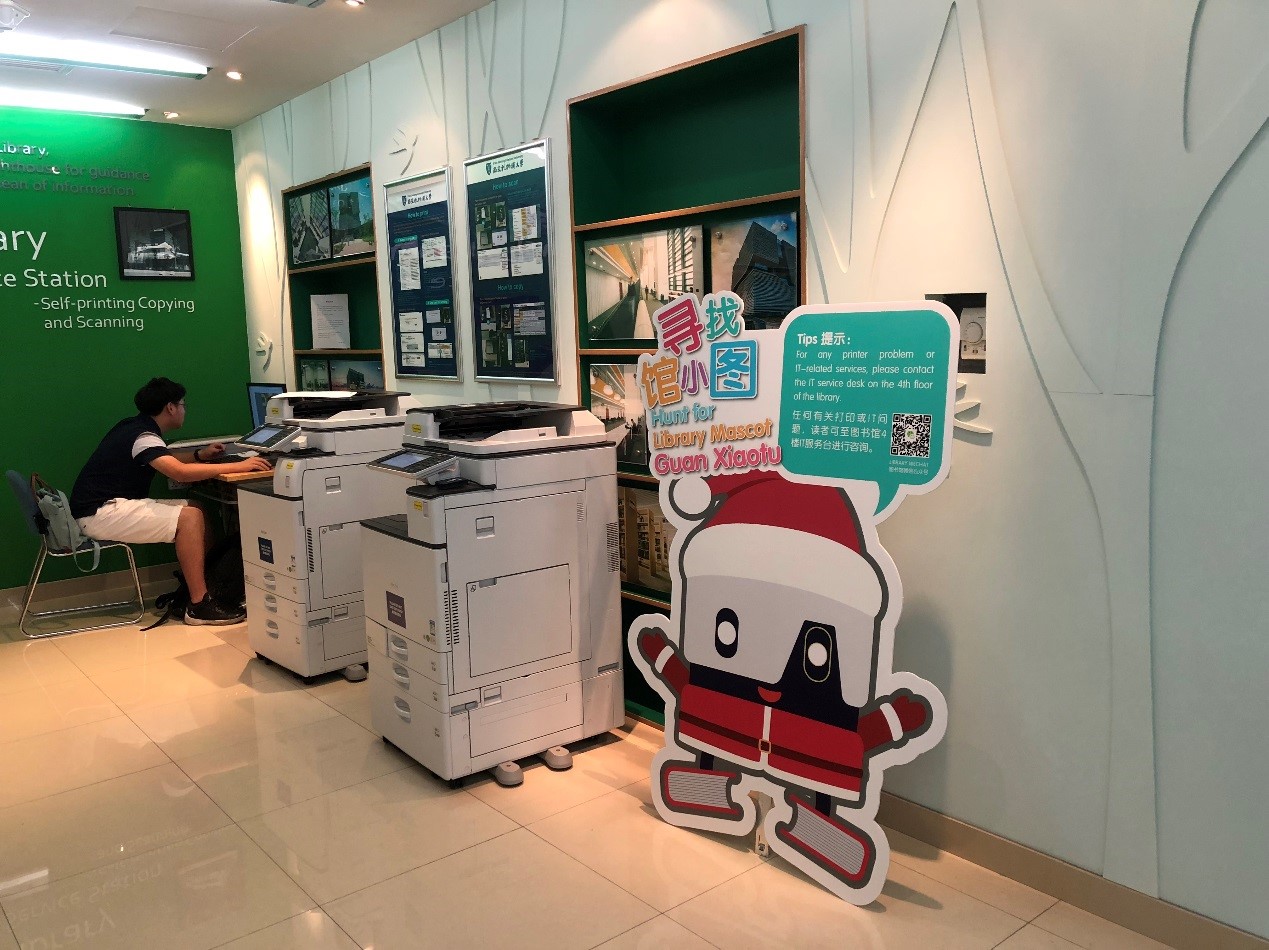 These activities have received a lot of kudos from participants:
这些活动受到了参与者的许多称赞:
A first year student named Wang commented, "I like reading books, and I also love library. Of course, I was eager to take part in the library activities. The activities that they held not only help me utilize all the resources that the library has but also borrow a lot of books that I love to read. The prizes are lovely and practical. The staff in the library are really good at what they are doing. I hope they can hold this kind of intimate activities frequently in the future."
大一新生王同学说:"我爱读书,也爱图书馆,当然图书馆的活动也要参加了。这次活动不仅让我了解了如何使用图书馆资源,还借到了很多我喜欢的书,奖品很可爱也很实用,图书馆的老师真的好用心呀,希望以后能经常举办这种贴心的活动。"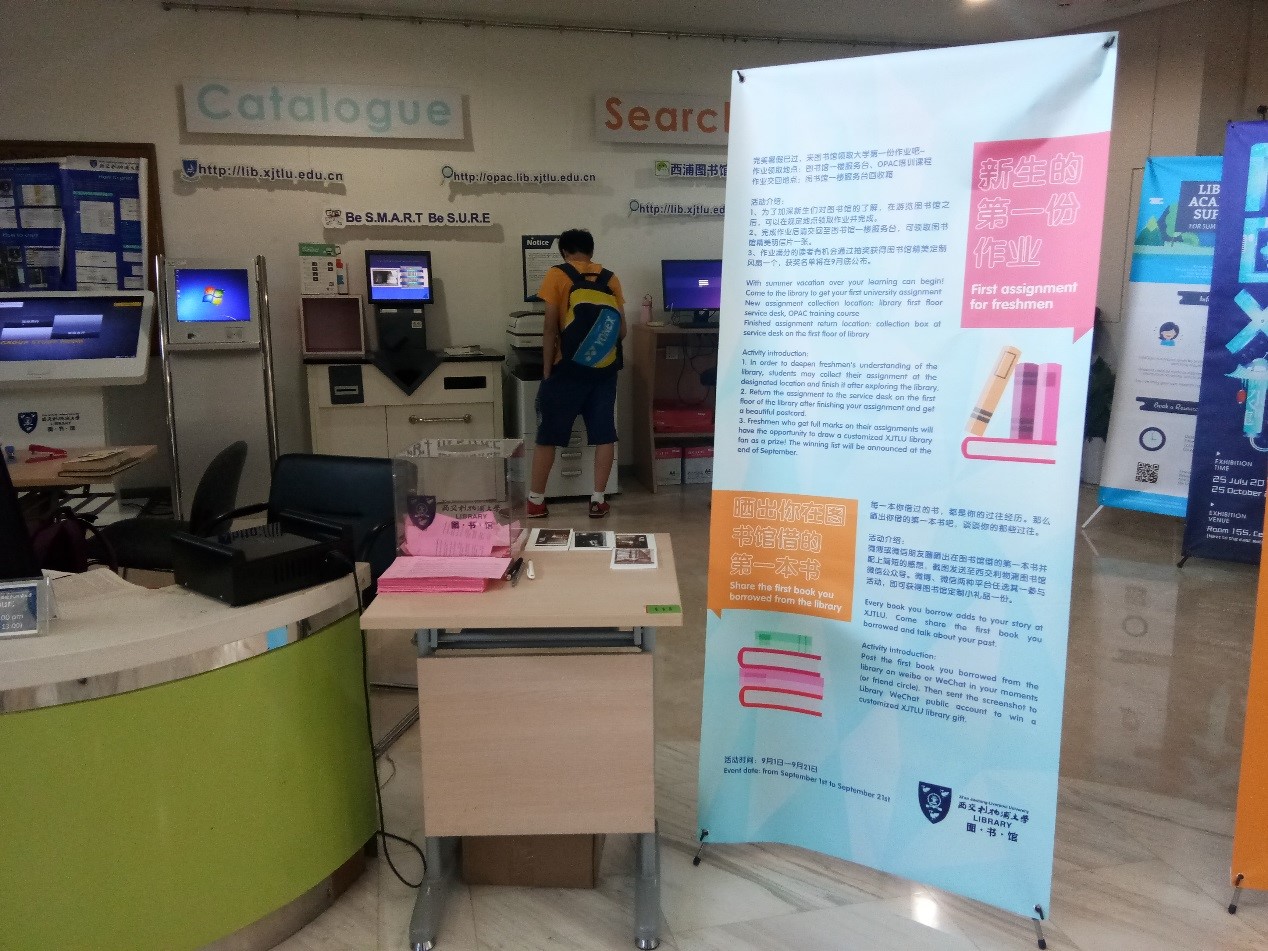 Li, a freshman said, "I was given a freshman questionnaire by the OPAC training instructor. Although a volunteer had introduced the library earlier, I still didn't manage to answer the questions at first. However, I managed to answer all the question by checking the student handbook. Those answers stuck in my mind ever since then. I am very happy that I won the price."
大一新生李同学说:"我是参加完OPAC培训老师递给了我一张新生问卷,虽然之前志愿者小姐姐都已经很详细的介绍过图书馆了,但是一开始看到上面问题我都回答不上来,后来是翻了学生手册完成了新生问卷,现在有关图书馆的那些事儿已经深深地记住了。竟然获奖了,心里还是十分欢喜的。"
"The main purpose of the Freshmen Week is to help freshmen understand the resources available in the Library, to pave a way for their future college life and study. It is hoped that through the activities, students 'reading habits will be cultivated, and that the library mascot, Guan Xiaotu will become students' study companion." explained Deng, a library staff.
"开学季活动主要是为了帮助新生了解图书馆资源与服务,为他们今后的大学生活与学习铺路。愿通过开学季的活动,培养学生们的读书习惯,也希望图书馆的化身馆小图能成为学生知心好友。"图书馆邓老师说。